One of the Best Garbage Disposal Repair Service at an Affordable Price
Need to repair the dysfunctional garbage disposal? Call us at Caliber Plumbing. We are one of the most promising and well-versed plumbing agencies with all types of plumbing services. Hence, we can assure you of the best plumbing solutions for damaged or broken garbage disposal. Also, we have a wide range of services to adjust the servicing cost. So, we can proudly claim that our services are affordable.
Furthermore, we have adequate plumbers on our team. Therefore, we are always up for any types of garbage disposal repair and replacements. Even if you need our services at an odd hour, we can do that. So, feel free to call us on our customer care number and share your requirements with us. We will put our best efforts to get the best treatment.
Benefits of Choosing Us As Your Plumbing Agency
Our entire team is full of experience in garbage disposal repair. Along with that, we hired certified plumbers who know the handling of both modern and traditional plumbing tools and instruments. Furthermore, we have adequate members in our servicing team. Therefore, we can offer you same-day plumbing services whenever you want.
Emergency Garbage Disposal Repair Services
Even for emergency service, we can send the best team from your locality. And our services are hassle-free. We bring our own tools and gadgets. So, all you need to do is share your concern and book the date. The rest of the service will be taken care of by our plumbers.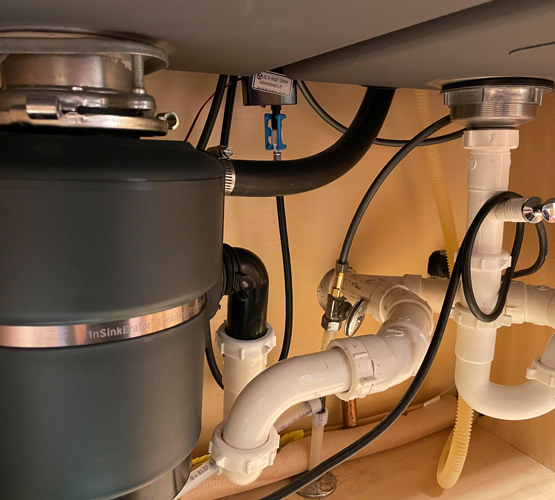 Get the Best Services as You Want
Moreover, we are also open to customization. Hence, if you need a certain type of service, you can call us for customization within your budget. Our team is available 24X7 hours throughout the year. 
We have been successfully providing the best and most affordable plumbing services for 19 years. We are experts in repairing Slab Leak, Pipe, Kitchen Sink, Toilet, Faucet, Drain Cleaning, Water Heater, Electric Water Heater, & Stoppage. In an emergency, don't think twice before calling us.
Frequently Asked Questions
1. Is It Possible To Repair A Garbage Disposal At Home?
No, it is not possible to repair the garbage disposal at home. It is because the process requires some professional tools and instruments that are costly and not required in everyday life. And keeping all the instruments at home is not an economic choice. Hence, leaving the job to professional plumbers will be a better solution.
2. What Do I Have To Do To Avail Services From Caliber Plumbing?
You can call Caliber Plumbing through the given customer care number. There you will be connected to their customer care executive. You can share your concerns and required services and they will suggest some feasible solutions for you. And you can choose the best services according to your budget and time.
3. Where To Go For The Best Garbage Disposal Repair?
If you are in the servicing areas of Caliber Plumbing, you don't have to worry about anything else. They have excellent services for different types and models of garbage disposal. So, feel free to contact them right away and repair your garbage disposal.